Vacation the USA through the ears of a Missouri Mule!
Installment plans available!
Calamity Jane TWH Molly
Is available as of 1/1/2016
Perfect size? Check!
Perfect age? Check!
Perfect gaits? Check!
Calamity Jane is going to check the boxes for a lot of people who are on the waiting list, so if you need sweet, smooth and uncomplicated you'd better be first - or be SORRY!

Shiny Black molly 10 years old TWH bred 15.1 hands, elegant and refined build. If you're the kind of rider that appreciates an eye-popping, beautiful mule, that's also so laid-back she's safe for the grandparents and the kids. If you've been looking for a long time for that "once in a lifetime mule" the only Calamity here is if you let this one get away without checking her out to see if she'd work for you. She's one of our highest caliber rides here at Missouri Mule Company, and we think you'll agree. (read More)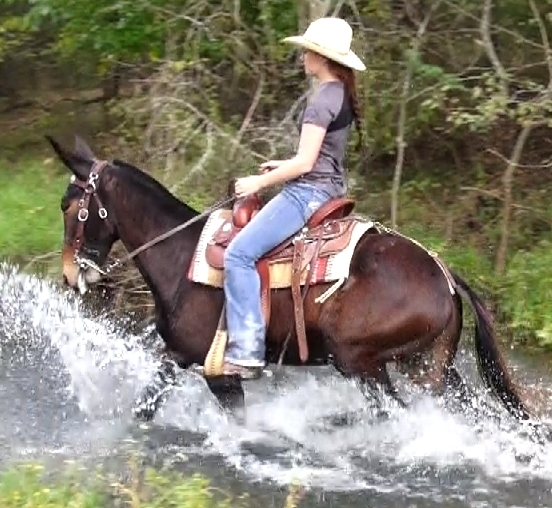 Click here for videos and or read on

Under saddle, Calamity Jane is laid back, and mellow. Her calm nature makes her the kind of mule that stands nicely for mounting, but she also parks out great and stays put till you tell her to step off. She's not as forward as some of the others we've had - and that is a quality worth it's weight in gold to the right rider! This makes her a deluxe confidence builder anywhere you want to ride her. Road, trails, mountains, or right up the bottom of a creek, Calamity doesn't care. We've been trying to find anything that upsets her - and we've been kind of creative about it - but so far we've struck out. Dogs, cats, flapping things, running water, tractors, cars, the UPS truck, deer, flapping pheasants and IRS men - and not a hesitation or a spook about her! (Ok, just kidding about the flapping pheasants and IRS men . They scare everyone. But if we find one, we'll be sure she's not scared of him. Heck, the way she is, she'd probably just want him to pet her!)

We'd say how much she loves women and kids, but the truth is, she's just not picky, and might be an absolutely fantastic fit for a family mule, or someone that has kids or a newbie husband and need a mule they can throw anyone and the little ones up on.
Blondie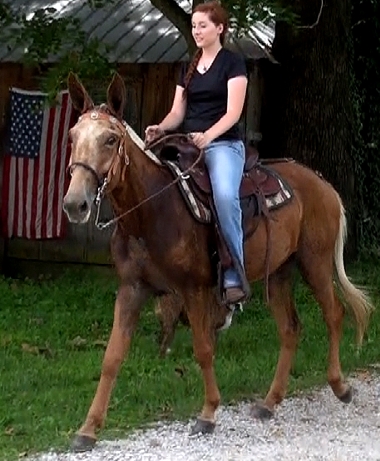 Blondie - Confident Rider's Dream
Palomino Molly Mule
5 years old
Tennessee Walker Mare
15.1 hands, stout and sturdy build
(Click Here) Read More / Videos)
This gorgeous molly has everything an experienced gaited rider would want - and I mean EVERYTHING! The size, the flashy color, the gait quality, and the down and dirty trail skills.
Blondie is a personable mule who likes people, and loves attention, which makes her easy to catch in any size pen. She's easy to handle and stands like a statue for mounting. $9400.00

Rackn On Ruthie (Sold)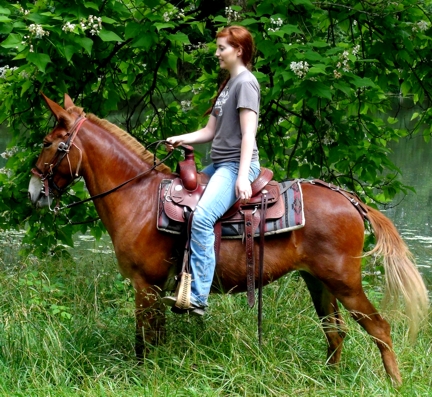 If you appreciate blazing fast speed and a floating smooth power ride, but also expect your mule to be easy to control, you'll want to check out Ruthie! This unique trail/show molly is full of personality and also happens to be one of the most forward-going speed rackers we've ever had the pleasure of riding.
(Read more)
(click for Rackn On Ruthie's Videos)
SOLD

Apache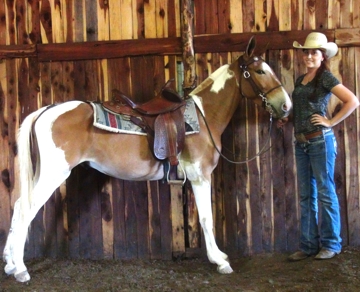 Red and White Tobiano marked John mule
Coming 4 years old
QH/Stock Horse bred
14.2 hands, Performance Build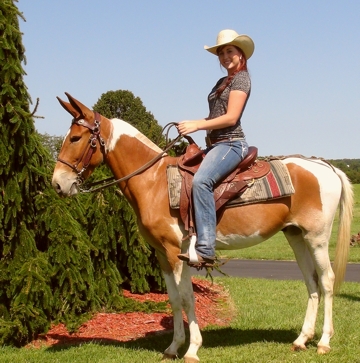 This solid and sturdy little gelding John has a real fan club here at Missouri Mule Co. This 3 year old john gelding has flashy tobiano markings and is as cute as they come! Although he's not gaited, Apache has such a smooth and comfortable trot that it might not matter to some people. We have some video that shows off his nice jog-trot, like a stock horse, but also has a floating extended trot and a nice collected canter that would make an English rider swoon. He's going to be versatile, and could be taken in several different directions, depending on what his rider wants to do.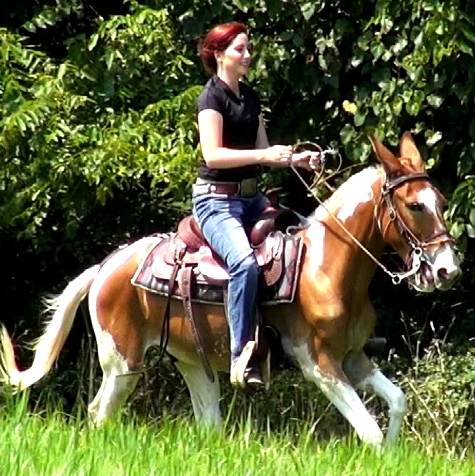 (Read more)
(click for Appache's Videos)
$9300.00
Coal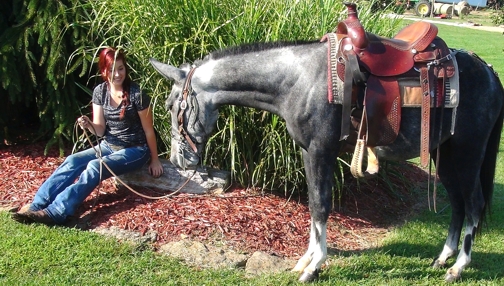 2012 Tennessee Walking Horse John Mule
14.3 hands

Sweet Pea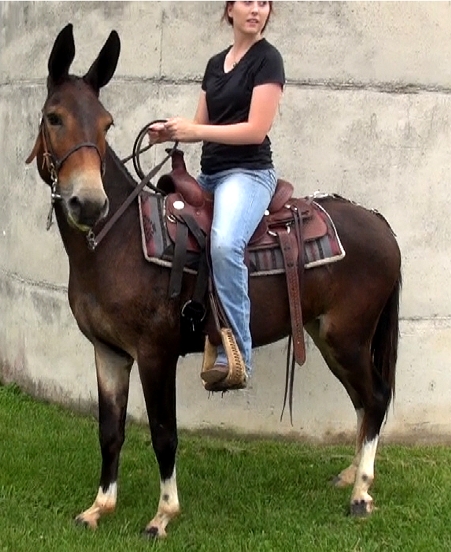 Click For Videos of Sweet Pea
$8900.00
Missouri Mule Company Play Pen
Baby Molly For sale
Pete Paso Mule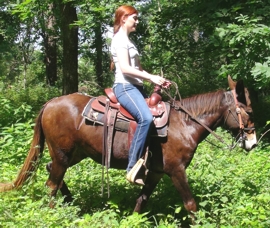 Pete's Diary
$3500.00

SPATS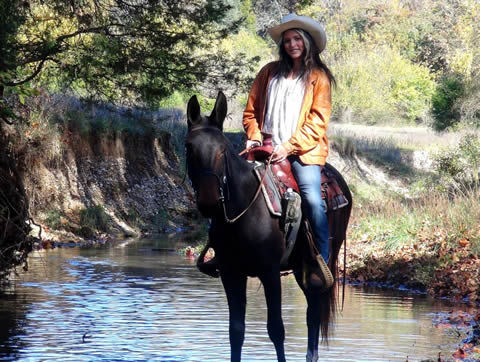 Although he's not tall or bulky, Spats packs a lot of power into his compact frame, and has enough "get up and go" to please someone who likes a bit of speed, while also being easy to handle. He has a short lope and doesn't get strong or overeager if you do run him-- he comes right back down and settles back in. His running walk is nice, too. That being said, Spats has a but his crowning gem is his smooth Smooth SMOOTH flat-foot walk! He's a real trail riding machine that you can just relax and enjoy-- he can keep up with the faster gaited horses or mosey along with the slowpokes.

(Click Here) Read More / Videos)
2000 Missouri Fox Trotter John Mule
14.3 Hands, Gaits (Flat Foot, Short Lope)
SOLD
Call Bob at 417-766-5150 for more information.


Whether you are 50 or 2500 miles away, our individualized "Mule Diaries" are regularly updated so you can meet each of our mules up-front and personal. Be sure to follow the links on this page into each mule's individual diary. By reviewing these "Saddle Mule Diaries" new owners in the USA, Canada and Europe have met and fell in love with their current trail companion. Via these diaries riders make a well-informed purchase facilitating their safe and happy trail riding and event participation.
Are you searching for safety, confidence and comfort in the saddle?

"You're getting closer"
Mount a MMCO gaited saddle mule and you will know what we mean. No other equine can give you the power, safety and comfort on a flat loamy bottom, or setting your hair on end sliding down a slippery mountainside. As we hand weave hybrid power, gait, agility, and soundness of mind, we have no desire to take any shortcuts. As a result, you will ride any terrain safely, including some shortcuts.
A Missouri Mule Co. (MMCO) mule puts you in absolute control of uncompromising hybrid power. But where is it written that a mule can't also offer pure comfort? Not here. Just settle into the saddle. Feel the comfort of the relaxing gait. It is the result of intense observation, development and training. Gaited mules are comfortable for 20 miles a day, they also secure your safety during extreme riding conditions. Now relax. Enjoy the view from your "Safe Space" atop a MMCO mule. Now, go where you want. See what others don't. Because you don't have to stay on the beaten path anymore. Tear into the back country where few dare to go, see what they missed.

Upcoming Mules
I have several Fox trotter and Tennessee Walking horse mules that will be listed soon. I'm sure as you check back with the Missouri Mule Company site I can help you find a gaited mule that fits your personal requirements. Feel free to pick up the phone and give me a call anytime. My cell phone number is 417-766-5150.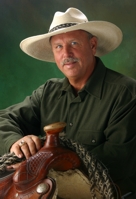 The worlds legendary Missouri Mules have always had a highly esteemed reputation. That reputation was earned by applying its ability to help man compete and win on the battlefield or the cotton field. Man has utilized this hybrid from the time Solomon road David's She Mule to be anointed king of the Israelites all the way to the settlement of the wild west and after that the mule traversed two world wars. As they assisted man, they won his heart and soul. Now, after decades of developing excellent gaited mares and fine jack stock you have the privilege of sitting atop the safest gaited trail mounts ever produced.
A hybrid we call the "Gaited Missouri Mule"



Missouri Mule Company
Bob Bingham, owner
3599 N. Farm Rd. 189 • Springfield, MO 65803
Contact phone numbers: Cell 417-766-5150
E-mail:
bob@missourimuleco.com
Missouri Mule Company, copyright © 2003-2015