My Fair Lady
Pretty color is nice and all, but you don't ride the color. You ride the GAIT. And even if this molly were a "Plain Jane" color, she'd still knock your socks off when you see her move… and boy, can she EVER move! The hallmark of a really good Tennessee Walker is a big, loose understride. Lady has - hands down - the BEST gait we've ever seen on a mule. She has so much reach and stride that the first time we saw her move, we all stood there with our jaws open.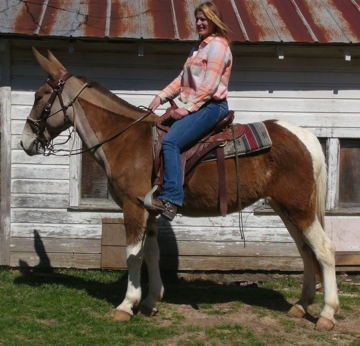 Even though she's a big mover, Lady has a nice handle on her. She likes to get the lead out, but when you ask, she'll stop and stand still. She's a brave mule, hard to surprise and not bothered by turkeys or deer or traffic. She's confident in herself and not prone to hesitation even if she's being ridden alone. In a group, she's more content to go with the flow of the group instead of being in a big race with herself. On the ground she's easy to catch and handle - she genuinely likes people, is sweet, friendly and wants to work. This means she'll meet you at the gate more often than not. She's also food-motivated, and eager to please.
Riders who are comfortable with a mount that has way more Go than Whoa and like a double helping of work ethic will love Lady's glide ride. If you ride the wide open spaces, ride for transportation, or ride with a lot of ground to cover this molly is uniquely suited to this kind of work. She's currently working on her neck reining skills and mastering precision moves. Her price will continue to increase as her training continues. While she may always be too much mule to be a babysitter, an experienced rider who can discern and appreciate truly exceptional gait will really like Lady and value all she has to offer.

On the ground, she is a friendly, easy to catch, people-loving pet who seems to like anyone, without much of a preference as to age or gender. Lady loves the people, but she's confident enough to not fall all over herself looking for attention. She'd be a good choice for a family, since she doesn't pick favorites! Her eager-to-please personality carries through under saddle, as well. She's all business on the trail or on the road, over, down or through any obstacles, but with a mellow, easy-going way about her. She goes wherever she's pointed no matter what the terrain, whether alone or in the group, and has a nice little trail neckrein, to boot! We've looked hard to find any holes in her training, and this is just one SOLID molly. Even a surprise encounter with a speeding Fed-EX truck on our road didn't upset her!
This molly is a very fast learner, picking up new things quickly and retaining them as well. It only took her a couple hours to learn to park out for mounting!

Lady is one of the best of the best- the kind of elite, top-drawer mules we turn out here at MMCO. Her consistency is a big plus - she's the same whether you ride her every day, or if weeks pass between rides. If you need the ultimate in comfort, safety (and maybe even a little hand-holding) you might want to move fast. We don't expect her to stick around long, since she checks all the boxes for a lot of riders.

| | |
| --- | --- |
| | |