Missouri Traveler MyAss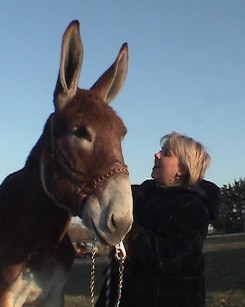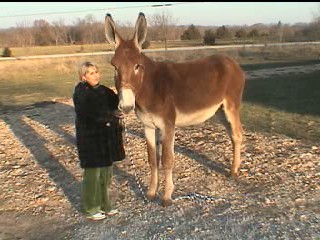 Yes, he really is that big!
Stud Fee $450 (At the farm)
Cooled semen shipping additional costs:
Collection and handling $150
Overnight Shipping $90
Missouri Traveler MyAss can be used as the standard
for all Mammoth Jack Ass.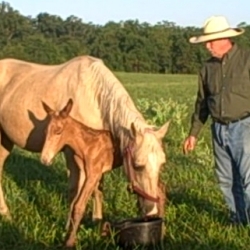 Click for movie of new colt
His size, 15. 3 hands, alone qualifies him for your serious consideration. Big Mo stand a head taller than all other Jacks in many ways. In every critical area to consider in a Jack, Big Mo stands out! His personality is sooooo sweet even my daughter can handle him. Review the video and see how inquisitive he is. He is like a Gigantic puppy that has no idea how big he is or that he can lift a 230 pound man off the ground by the shoulder and hold him there in his teeth. Before you go to the movie though, check out the Top Ten list below. These movies and photos are the only way to explain to you all there is to know about Big Mo.
Big Mo is reasonably priced. Call 417.766.5150 or e-mail for current pricing.

Click here for MyAss Colts photo album
Click here for MyAss photo album
Top Ten List to breed to
"Missouri Traveler MyAss
Click on the photos to enlarge them.
At 20 months he stands 15 hands proud and headed for 16 hands.
If you want a stately mule, use a Jack that is stately.


Fine set of long tight ears. Nice hook in them.
The first impression is made by your mule's ears. As you know, they come from the Jack.


Fine soft eye brow. Fine Jaw Line.
Do you want a pretty head on your mule? It starts with the bone structure of the Jack's head.
Big Mo Equals a pretty mule.

Neck set high on shoulders.
Any Walking Horse man will tell you: The only way to get reach in the front end is get the head up and out of the way.


Straight back of correct length.
Do you want to start with a swayed backed, pot belly mule? NO! Start with great conformation and end with great conformation.


Full chest with front legs set apart
Full chest gives the base for the front legs to spread apart for stability and reach. Also provides room for massive lungs.



Back legs are set apart.
Looking for gait and ground speed? Those back legs have got to be set apart to develop reach and swing. That equals a rolling gait.


Good overreach and a loose gait.
The gait comes from the momma, but it helps to have a ass that swinging, is loose and has overreach! Bog Mo has it all.



Missouri Mule Company
Bob Bingham, owner
3599 N. Farm Rd. 189 • Springfield, MO 65803
Contact phone number: 417-766-5150 • E-mail:
bob@missourimuleco.com
Missouri Mule Company, copyright © 2003 - 2015