Sit back and relax.
This dreams going to last a while :)
Installment Plans Available



Order your new Custom Saddle
I guarantee it "You will learn more about Gaited saddle Mules right here than anywhere else on the web". Enjoy!
Bob Bingham

"GO GAITED"
Safety and performance starts with a mind set of:
No Compromise. No Sacrifices. No Concessions.
Read on or join me in the saddle and I'll show you our gaited mules!
Haley R.

(Click my photo) and GO GAITED"
When it comes to safety and performance, it's the only philosophy that works. As the undisputed top gaited saddle mule producers in the nation we know what it takes to develop that one in a hundred finished mule.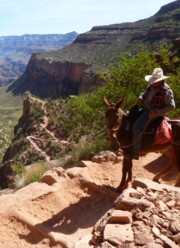 2010 Grand Canyon Ride
Yes, we take our Missouri Gaited Mules to "The Canyon" ride to the bottom and out. Now,,,,, That is Extreme!!!
Trail riding on a sure footed, fine boned gaited mule is a pleasure that has to be experienced to appreciate. Our Saddle Mule Diaries contain extensive photos and videos. These are available to assist in your search for a safe, comfortable gaited mule. Also you can keep tabs on the saddle mules for sale as they develop year after year. Requesting new photo updates will also help keep you current with our mules via an occasional e-mail to inform you of new arrivals and other developments. Viewing the development of the saddle mules will help you make a good decision on which mule you want to take home to be your trusted mount for life. By reviewing our Videos and "New Owner Diaries" you can build your confidence in your future with a Missouri Mule Company mount. Read messages and see photos from owners of Gaited Missouri Mules that came from our farm.
Our Gaited Mules for sale are as smooth as a good trail riding Missouri Fox Trotter or Tennessee Walking Horse. Hybrid flowers improve on their original stock and it is in this way that gaited mules are an improvement to their parental stock. They are stronger, with increased stamina, sure footed ness and a calmer disposition. The new mule is what you will see here. Mules are no longer just for work. Our Gaited Mules are filling the new leisure requirements that women and men are demanding of their trail riding mounts.
Gaited Mules are docile and make the best gaited saddle mounts of all!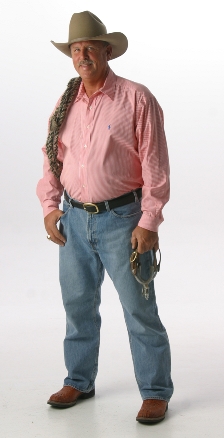 My family has been involved with gaited equine for the past 50 years. The last 20 years have been spent trail riding the Ozark Mountains around our Missouri home. As time has its way, our children grew up and our gaited geldings were just standing in pastures eating grass. My interest in the equine world had to be more fulfilling than watching geldings eat grass! I had been looking for a good gaited mule for some time and could not locate one. Desire for that mule and for a challenge in the equine world gravitated my attention to producing some of the finest gaited trail mules in the country.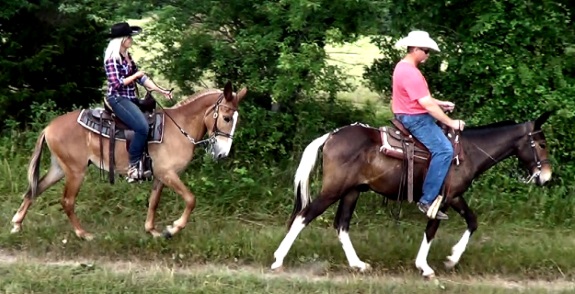 Missouri is famous for it's Missouri Fox Trotters, and it has been a major supplier of mules to the USA and foreign countries for over 150 years. Inspired by those two facts I was off on a new endeavor, the "Missouri Mule Company." Since then I have watched as our mule colts develop from imprinting and other humane training techniques. Trust and confidence are being achieved between mule and human daily. Folk lore of the kicking, biting, outlaws are put to rest as these mule colts respond to the privileged treatment that is standard in the horse world. We are developing a "New Mule". In reality it is the same mule that has always been there for us. We just never helped that mule develop to it's full potential as a quality saddled trail mule.
Come along now and see what I'm talking about..


Missouri Mule Company
Bob Bingham, owner
3599 N. Farm Road 189 • Springfield, MO 65803
Contact phone numbers: Cell 417-766-5150
E-mail:
bob@missourimuleco.com
Missouri Mule Company, copyright © 2003-2015