Amish Leather Tack and other training devices.
Custom made to fit your mule or horse.
The Amish know the meaning of utilization of the equine creation as our forefathers did. Their equines are utilized for every sort of power and mobilization imaginable. For this reason the tack they make is attractive, functional, tough and takes daily work and abuse. All items are hand stitched and the power for their sewing machines comes from good old-fashion leg power.
I have several friends that are Amish. I help them overcome the limits of their beliefs about photos and the use of electrical power (let alone a computer) by making available these fine works. If you would like a unique piece of tack or gift for a friend, family member or yourself that will never quit being talked about or taken for granted, make a selection from these items.
Horse or Mule Size Bridles - Crown strap snap free for easy bridling. great for ear shy horse and mule.
Halter / Bridle combination

The ultimate Mule Hedstall>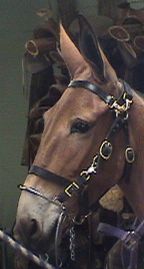 It doesn't mater how desensitized your mule's or horse's ears are, they don't want them doubled up into a head stall designed for a horse. Bridling made easy is now available.
Bridles are made from heavy harness leather Hand Stitched by foot powered Amish sewing machines.
All quality brass hardware
I cannot convey even with this photo the quality & weight of the leather.
The stitching is lovely. Even the throat latch is heavy harness leather and has a weighty brass buckle.
(Bit not included)
Click her for more photos of Bridle
Item A286 Hand Stitched Halter / Bridle Combo.


---
SNAP ON BRIDLE (FRONTAL BAND)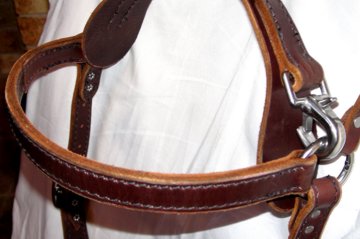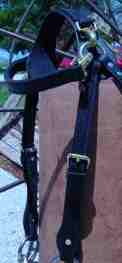 Highest quality workmanship, leather and hardware combine to produce a piece of tack you can't buy in any western store.

Bridles are made from heavy harness leather Hand Stitched
Stainless Snaps
Item A276 Hand Stitched Bridle.
$92.00
Stainless hardware.
On Ear ( snap on) Bridle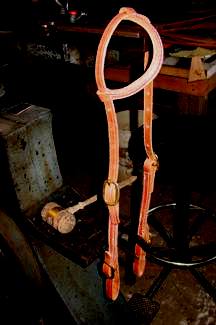 Bridle are made from heavy harness leather.
Hand Stitched.
Brass Hardware.
Available with snap around ear Station for ear shy equine.
Crafted from heavy harness leather and stitched all the way around. Brass buckles. Wears like iron.
$49.95

Specify if the bridle is for a mule or horse. We will have the ear loop the correct diameter to fit your equine.
Mule medallion Bridle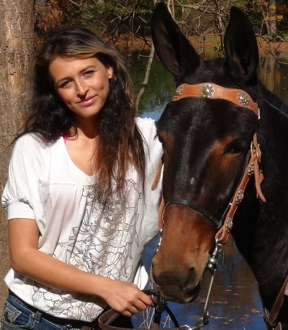 Caveson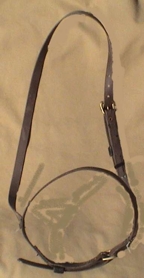 Many mules have the agility and bad habit to roll their tongue over the bit. As soon as that tongue gets over the bit you loose direct control through the bit. Even if that doesn't happen, the mule becomes uncomfortable and that directly effects your mules performance.
Another critical situation is when a mule gets mad and opens his mouth, spits the bit out (not literally) and becomes a runaway.
Both the above situations are virtually stopped with the application of our caveson. Made from Bio Thane.
Click photo to enlarge.
$29.95
Split and Stitched Reins
Split Stitched Reins
5, 6 or 7 feet long. (please designate).
3/4" Split & Hand Stitched

The balance of these reins in the hand are wonderful. I ride all day and these reins just lay in my hand needing no grip to keep them in place. I rode with a set of flat reins the other day and they felt like clubs.
Item A255 Hand Stitched Reins
$59.00
Stitched roper Rein
Stop! Photos are not quit a roper rein but here to see the quality. We take one side of these split reins and make a roper bit out of it. A roper rein is a single rein looping around the neck from bit to bit. Sorry for the confusion.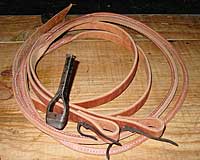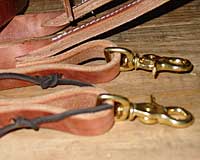 $52.00 (add $2.00 if you want snaps)
Item A255 Roper Reins
Choke free Breast Collar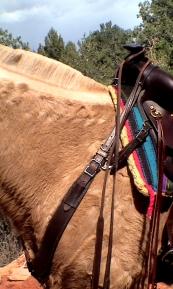 The perfect answer to those extended hauls up those steep mountains. Mules don't need to stop and blow as often as a horse. But, if you cut their wind off and starve their blood of oxygen, well, you lose. $139.00 (Specify size Medium or Small) Item # A500

Crupper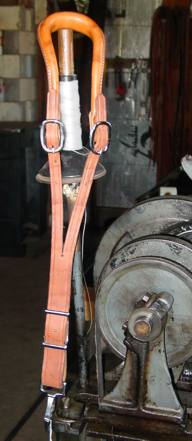 This piece of tack has an easy job most of the time, but I still wouldn't want that kind of work! This is the cheapest piece of insurance you will ever buy. Item # A505
$57.00

Britchin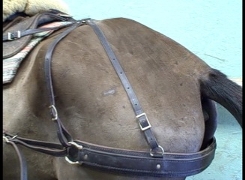 $179.00
Britching or a crupper are required to outfit a mule correctly. Even when a saddle fits correctly one of these two pieces of tack keep it on the mules back and off his neck when momentum is moving it forward. Item # A560
Chain Weights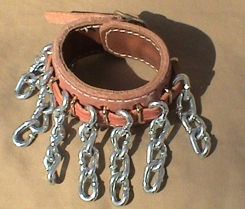 If your missing some swing in the back end. Or the front feet are not lifting up and out, this system could help your gaited mule find his gait.
The rule of thumb is "if he is smoother going down a moderate incline, weight him in the front. If he is smoother traveling up a incline, weight him in the back. Item A455 natural harness leather color only. Item # A570
$79.00 per pair

Training Mule Bit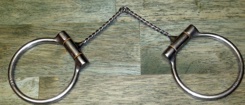 Hypodermic Needle Bitt
$79.00

Gaited Mule Bit (stainless)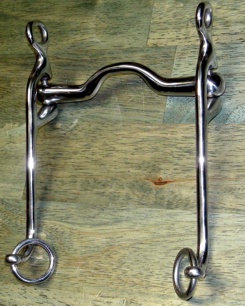 Stainless steel bit for a gaited mule
$64.00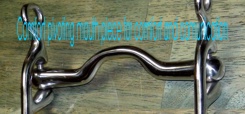 Curb chain (stainless)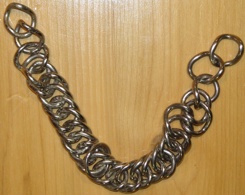 Stainless steel curb chain for equine
$14.00

Curb strap (biothane)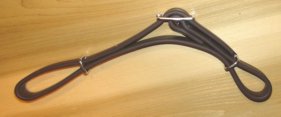 Biothane curb strap.

$17.00

Curb hooks (stainless)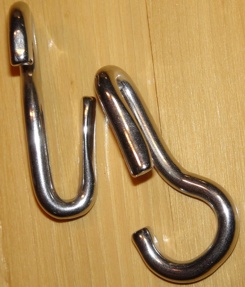 Stainless steel curb hooks for equine

$15.00

Orders are hand-made after being placed. It normally takes 4 to 6 weeks to ship via USPS Priority Mail.

All shipping is $8.85 unless the package is very large or very small.
For all leather items, specify color black, tucker brown or natural harness leather.


Pay Pal or Money Order payments only. Mail "Money Order" orders with exact item, size of equine and color requesting. Please include mailing address and cell phone number.

All shipping is $8.85 unless the package is very large.


Missouri Mule Company
Bob Bingham, owner
3599 N. Farm Rd. 189 • Springfield, MO 65803
Contact phone number: 417-766-5150 • E-mail: bob@missourimuleco.com

Missouri Mule Company, copyright © 2003 - 2015