Mississippi Delta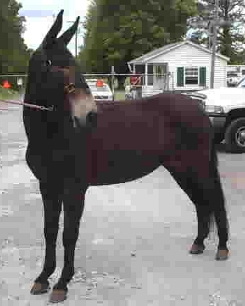 At fourteen years old Mississippi has been around and done it all twice. Has all three gaits, Flat Foot - Running Walk - Rack. Will keep up with those Tennessee Walking Horse and Missouri Foxtrotters.
Short loaps. Neck reins. Backs.
Has a pleasing well rounded body showing her TWH heritage. Pretty face a perfect set of ears. When riding you will not need to tell anyone she is a gaited mule, they will already have watched her going and they will know.
She has a perfect personality. She builds a bond with her owner but is independent from the herd. I like that in a mule. When you stretch her out to get off she will look around at you as if to say "Is that low enough for you to step off?"
She is safe around any situations. Horse camps, developed trails where hikers, bikers and jogger are encountered. Of course all types of trail encounter like water, down falls, wildlife and the like are no issues. She parks way out for easy mounting and dismounting, watch her video. She has been hunted off of with no problem. Gun fire has no effect on her.
If you are hunting in the mountains of the Western States she will do several things to enhance your hunts. First, keep you safe in the back country (no Air-vac required). Second, she will take you much further than any ungaited equine in comfort. Positioning you where most can't extend their hunts to. Go where the big racks hide out. Thirdly, get you to the hunting sight swiftly. She can travel over ten miles an hour in a smooth racking gait. Take your GPS, it will amaze you how far from camp you will be during an hour ride. OH, send us some photos of the big one that didn't get away like John Glenn did and we will post it on our New Owner Page. Take a look at his big elk at http://missourimuleco.com/new-owner-diaries.shtml .
Please get to know her through these movies as well as her developing "Photo Diary"
| | |
| --- | --- |
| | |
| | |
| | |
| | |
| | |
| | |
| Photo Only | Photo Only |
| | |
| | |

Missouri Mule Company
Bob Bingham, owner
3599 N. Farm Rd. 189 • Springfield, MO 65803
Contact phone number: 417-766-5150 • E-mail:
bob@missourimuleco.com
Missouri Mule Company, copyright © 2003 - 2015