Jack Services
Think of this, the mule you are breeding for
will be the one you are riding in the year 2036.
Let me say that Jacks are so very different than other equine. I you have not been around Jacks, it is important to have assistance in selecting the correct one for the intended use of your upcoming mule. Be selective! (Review criterials for a perfect Jack Ass). Do what is necessary to produce a great prosepect from your mare.
Missouri Traveler "MyAss"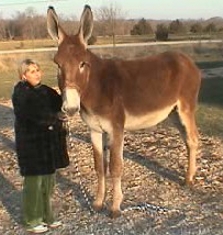 - 15.3 hand Mammoth Jack
- Conformation and size to produce a great mule out of your mare
- The perfect Jack Ass
Top Ten reasons to use "MyAss"
Old Iron Sides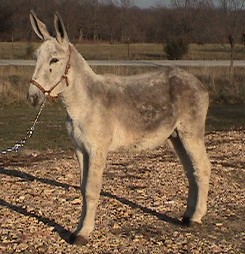 - 15 hands Mammoth Jack
- Conformation and size to produce a great mule out of your mare.
- He should put the chrome on your colt
- Striking gray grulla coloring


Missouri Mule Company
Bob Bingham, owner
3599 N. Farm Rd. 189 • Springfield, MO 65803
Contact phone number: 417-766-5150 • E-mail:
bob@missourimuleco.com
Missouri Mule Company, copyright © 2003 - 2015